All About CoolSculpting
Offered at our convenient location in Houston, Texas
At DaVinci Body, CoolSculpting is ALL we do! We have mastered the art of CoolSculpting and back up your results with The DaVinci Promise. Are you ready to lose your stubborn, diet and exercise resistant fat?
How does it work
CoolSculpting works by literally freezing your fat cells until they die! The treatment utilizes a proven science called Cryolipolysis to target fat cells without damaging the skin or surrounding tissue.
Harvard scientists Dieter Manstein, MD and R. Rox Anderson, MD discovered Cryolipolysis when they observed that children who ate popsicles got dimples in their cheeks. They realized the cool temperature of the popsicles led to the freezing and eliminating of small pockets of fat cells.
CoolSculpting safely delivers precise, controlled cooling to gently and effectively target fat cells under the skin. Because fat freezes at a higher temperature than other cells, the treated fat cells are frozen, and then die. Over time, the body naturally processes the fat by eliminating these dead cells. The result is a more sculpted body.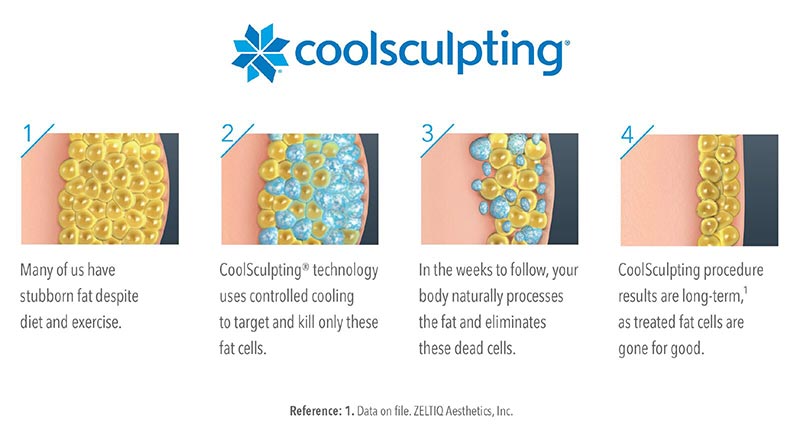 Am I a candidate?
Although CoolSculpting is an effective body sculpting technique, it is not a weight loss solution. Candidates for CoolSculpting are within 30 pounds of their ideal weight and have certain areas they would like to improve to achieve a more contoured look.
To determine if you're a CoolSculpting candidate, book your complimentary consultation.
What is DualSculpting?
DualSculpting is a term for utilizing multiple CoolSculpting machines to treat 2 areas in a single session. This saves you time and eliminates more fat.
What can I expect during my consultation?
During your consultation, our team will work with your individual body concerns to help you determine the best treatment plan to achieve your goals.
DaVinci Body is a judgment-free, pressure-free zone. Your consultation is truly your time to determine if CoolSculpting is the best fit for getting your masterpiece body.
What can I expect during my treatment?
Our highly trained staff will make sure you are comfortable throughout your treatment. At the beginning, you will feel a slight pressure followed by coldness in the treated area. After a few moments, the area will numb. Then, most patients either read, watch videos, or spend time on their phones or laptops for the remainder of the treatment.
What can I expect after my treatment?
After your CoolSculpting treatment you can resume normal activities immediately. Some mild soreness and swelling may develop in the area within a day or two after the procedure. This should not hinder you from going to work, playing with the kids or working out.
When can I expect to see results?
Most patients begin to see results within 3 weeks of the procedure and full results within a few months.
Do you still have questions about CoolSculpting?